Changing your display name can be done at most once per 90 days. This policy may change at any time, with no notification.
The name you first signed up for VRChat with is your username. This cannot be changed, and is used for logging in to VRChat.
Your display name is the name other users see above your avatar's viewpoint in VRChat. By default, this matches your username, but it is possible for you to change this yourself.
Proceed to the VRChat Home, and log in. Hit the blue Profile button that displays below your name, status and avatar thumbnail.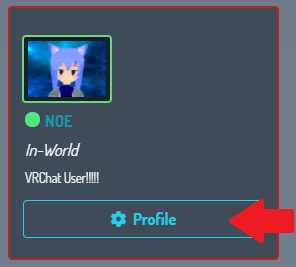 Here, you can change your account information, including your display name. When changing your display name, you will be asked to type it again to verify. Ensure that you type your new name correctly. Once changed, your name cannot be changed again for 90 days.
Names must be unique and a minimum of 4 characters long. Names cannot be longer than 15 characters.
Name uniqueness works as follows:
Your new name cannot be the same as someone else's Display Name or the same as someone else's Username.

If someone has a username that you want, you cannot use it as your display name.
We do not process any name changes via email to Support.
Keep the VRChat Community Guidelines in mind when changing your name. Names cannot contain offensive or rude language, nor can they be intended to impersonate another user. Names that violate our Community Guidelines or Terms of Service may be forcibly changed.
IMPORTANT NOTE: This will only change your display name, the name that you log into the app with will remain the same. You can also use your email address to log into the VRChat application, website and SDK.
Again, please note that you may only change your name once per 90 days. This limit cannot be overridden, so be careful when changing your name!